We are a specialist fibreglass moulding company which also incorporates an engineering division. UK Hydroslides offers the facilities to design, develop, pattern, tool & part manufacture, assemble and install, all accredited with ISO 9001.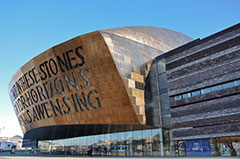 Working with our partner company, UK Hydroslides, we specialise in producing high quality GRP mouldings and products to meet our customers unique requirements. we manufacture products for a wide range of businesses in industry and commerce.
Our highly experienced team of fitters, finishers and laminators carry out the whole manufacturing process, from plugs through GRP mouldings to the finished product, at our factory in South Wales. This gives us the flexibility to work closely with our customers; ensuring the finished product is exactly what they need.
Whatever your project, we can probably make a mould to produce what you need.

While we work with clients from almost any background, we have particular experience in:
Building and construction

Decorative features, ventilation cowls, weatherproofing, storage and equipment buildings

Retail and exhibition

Signs, retails display plinths, educational and information displays and housings

Water/Fluid storage and systems

Tanks, bunds and pipework; from small units to leisure pool hydroslides

Marine

Yacht hulls, non-slip decks, internal structures, cabins

Rail and road transport

Fairings, panels, light fittings, bodywork extensions

Whatever industry you are in, contact us to discuss your fibreglass moulding requirements.
We have a wide range of skills, abilities, and experience which allows us to consider any job or requirement, whatever the scale.
We would welcome any Enquiries that you may have.
"Big enough to cope, small enough to care"
So if you are looking for a fibreglass moulding company that you can count on then contact us by email or telephone 01446 794649 to discuss your particular requirements.